I wonder how are these people brainwashed by their masterminds, or, are they that dumb to begin with?
How will destroying important buildings/installations, kidnapping people and killing innocent civilians going to serve the cause of Islam or Pakistan? It might enrich them but, again, how will it serve the cause of Islam or Pakistan?
Petty criminals and losers pretending to be heroes I suppose!


Terrorists were plotting to target important buildings: Police
Held terrorists say they wanted to hit important installation in Punjab including Metro Bus.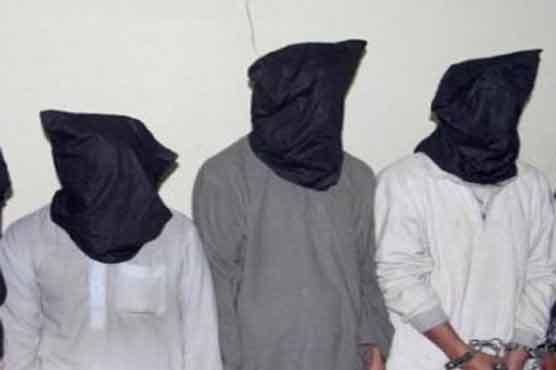 Held terrorists say they wanted to hit important installation in Punjab including Metro Bus.Lahore - Thursday, September 26, 2013:
Security forces had arrested 7 terrorists belonging to
Al Qaeda
from Lahore, Gujrat and Gujranwala a few days back.
During the interrogation the held terrorists have revealed that they had been assigned to target important installations in Punjab.
Police sources said that
aim of the terrorists was to sabotage Pak-US and Pak-China agreements and projects
. Lahore Metro Bus project was also one of their targets, police said.
The intelligence agency and police jointly raided in Johar Town and Sabzazar area and arrested four terrorists.
The law enforcers arrested terrorist, Ghulam Ahmad Nabi, who was nabbed by agencies a few days back at Lahore Railway Station and recovered suicide vests and other explosives material.
On a tip-off, law enforcers timely acted and raided in different areas of the city and arrested four alleged terrorists and recovered illegal weapons and explosive materials from them.
Earlier the law enforcement agencies had caught a
n International Technical Hub or International Communication Centre of extremist outfit, Al Qaeda,
in suburb area of Lahore.
The hub was set up in Bagria'an area of Green Town, situated in outskirts of the city.
According to intelligence sources, the intelligence agencies got a tip about the centre a few days back and after a surveillance operation around the house raided the centre.
"The culprits had been engaged in mobile phone tracing of their victims,"
the sources said. The network has reportedly an organized set up throughout the province of Punjab.
"The culprits have been planning to kidnap son of a key political figure," the sources further said.
DN