Trial Run Video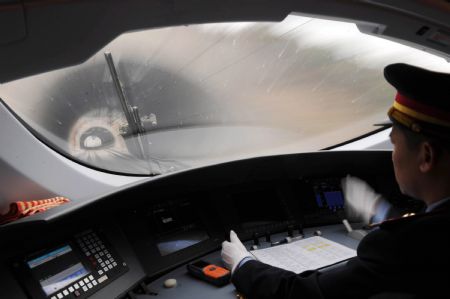 A driver leads the train through the tunnel on the Wuhan-Guangzhou Railway,
December 9, 2009. The High-Speed Passengers-dedicated Wuhan-Guangzhou
Railway, which extends 1,068.6 km in full length and scheduled to be
operational by the end of 2009, made its trial operation on wednesday.[Xinhua]
WUHAN: A railway linking Wuhan in central China's Hubei Province and Guangdong's capital Guangzhou city was set for trial run on Wednesday.
It took three hours for trains to cover the 1,068.6-kilometer railway, said an official with the railway bureau of Wuhan.
The railway costs about 116.6 billion yuan (about 17 billion US dollars) and shortens the 10.5-hour trip between Wuhan and Guangzhou to three hours.
Trial operation of the railway shall start on December 20, according to the official.
China is in a fervor of improving its railway system amid transportation pressure. As planned, it will build 42 high-speed passenger rail lines with a total length of 13,000 kilometers in three years.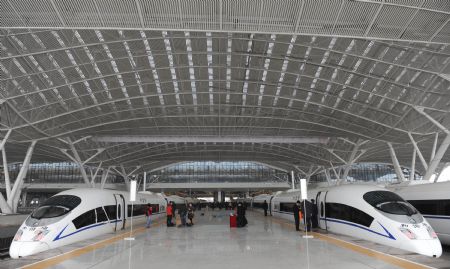 The test-running trains prepare for their first journey at the station in Guangzhou,
capital of south China's Guangdong Province, Dec. 9, 2009.[Xinhua]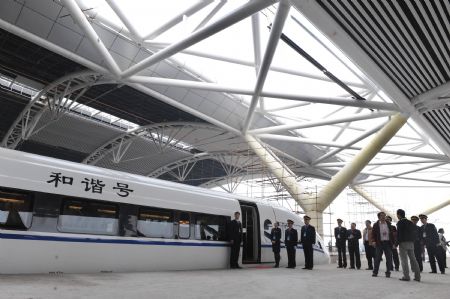 The test-running train prepare for its first journey at the station in Guangzhou,
capital of south China's Guangdong Province, Dec. 9, 2009.[Xinhua]