On december 7 - 2006, PAF announced the procurement of Saab Ericsson - Erieye AEW System. Around that time, PAF also showed interest in the Y-8 AEW platform. Also, in the same space of time, it also requested United States, for the P-3 Hawkeye-2000 AEW platform. It showed an indication towards something which could enable PA, PAF & PN Inter-Operabliity by creating a Net-Centric 'Iron Triad'. This would allow all PA, PAF & PN assets a more responsive ability, with the power to respond to threats with a very quick reaction time.
Examples of these can be found in both US armed forces as well as the UK armed forces. In the US case, the 'triad' revolves around the E-3C Sentry, RC-135 Rivet Joint & the E-8C JStars. A cumalitive intelligence gathering, surveillance which is shared in near real-time. In the UK case, the 'triad' is based on E-3D Sentry, MR4 Nimrod and the R-1 Sentinel. And then there are the Brazilians, who have introduced a capable combination in the shape of EMB-145 Erieyes, EMB-145 RS/AGS & R-99s.
Ofcourse, we're no where near the capability that these militaries have. However, the recent interest shown, gives indication toward assembling this capability. But since PAF has been AEW hunting lately, it would be a good time to assess viable AGS (Airborne Ground Surveillance) platforms, as we have non so far. P-3C Orions are already being aquired to enable PN relaying target information to other platforms which would re-direct suitable weopon systems to destroy the targets.
There are platforms available to us, but it would require some looking into. Although it is assumed that PAF was showing interest in the Y-8 KLJ-2000 (Rotodome) & KLJ-200 (Balance Beam), both are however, AEW platforms. But there is also another configuration that Y-8s offer, and that is the BattleField Surveillance Management platform. Eventhough there isn't much information available to assess the capability of this platform, it still is a viable option that we can avail and one which PAF may have been actually interested in.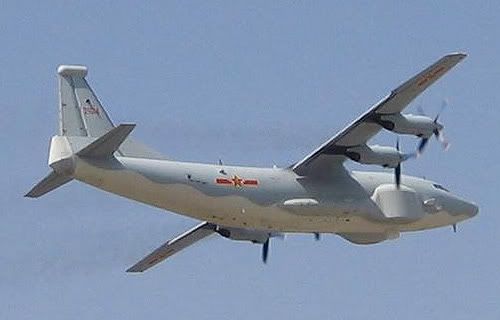 Y-8 Battlefield Surveillance (to track ground targets)
Another platform, which is available to us, is the EMB-145 RS/AGS Ground Surveillance platform. Eventhough we have no indication that PAF was looking this. There is a possibility that this platform could be a real option. The EMB-145 RS/AGS is a very capable platform which would easily mesh with PAF's Saab Ericsson - Erieye. As record has it, Embraer is already offering the Erieye on the EMB-145 aircraft.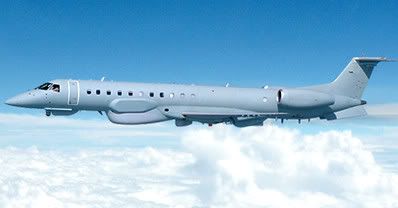 EMB-145 RS/AGS Ground Surveillance
---------------------------------------------------------------------------------------------------------------------------------------------
Pakistan, with its current ongoing requirements, would be capable of dealing with any intrusion into its airspace, land-space and maritime territorial waters, if it has an ISR Net-Centric capability. With the current purchases of AEWs, ASW platforms in the shape of Erieyes and Orions, it would be the right time to look for AGS platform which would enable Pakistan to form a rock solid 'Iron Triad' that would have near real-time net-working capability, with remote sensors.
Having AH-1W/F Cobra gunship helicopters, F-16 Fighting Falcons and MRTP 33 patrol boats, would sure look good as a potent force to deal with any threat that is out there. But if these weapons don't know who their target is, how would one expect them to eliminate the threat. For this reason alone, i have brought about this subject to discuss the different platforms and their capabilities, plus their feasibility to integrate with other platforms which Pakistan is about to aquire.
Currently we are (at least to my knowledge) without a proper ELINT/SIGINT platform which would be able to operate with the Erieyes and Orions. The Embraer, EMB-145 RS/AGS would be an ideal choice for such capability. This would allow an enormous advantage to PA, PAF & PN to track movements of any foreign elements within its territory or on the border. Target specifics would be able to be relayed on to platforms such as the Cobras, Vipers, MRTPs and etc. An punch in Pakistan's armor, when it is fighting a crucial war on terror!
Warning: Mods, a request, if you see any rat-indian on this topic, eliminate him!